Undertaker Media - ASF Videos 2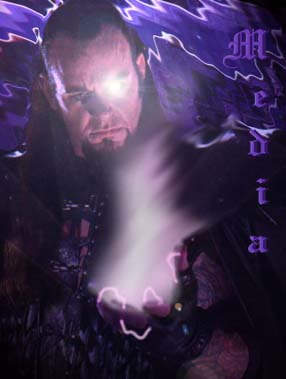 Items with a N are new and all of these are Crypt Originals and exclusives, and ones with a † have other formats.

I have made all of this media myself, please don't swipe them without permission or credit and in NO condition link directly to them. HOWEVER, the Crypt acknowledges that all TV media is property of the WWF, and is not out to infringe it, but provide an informative and educational resource on an audio/visual level.
Should your player get a "timeout" error, the file is still downloadable by right-clicking and saving the link as.

ASF Notes:
-ASFs are a Windows Media Player Streaming format, but these can be saved by right-clicking the link and saving the target/link to disk.
-These can be streamed but are encoded at bitrates intended for local playback
-They require the Angel Potion decoder.


ASF Page 1
N Undertaker's Adrenaline cideo (3.8 meg asf)

12-17-01:
Jeff gets the Last Ride 869k
Jeff gets the Last Ride off the Tron stage 572k
Lita gets tossed off the stage 866k
Replay of everything 1.3megs

Raw 10-15-01:
Taker informs Angle he'll be his tag team partner 779k
Taker gets a mini-me 1.09megs
Booker gets dominated 1.02megs
Angle and Taker bounce Austin back and forth 554k
Taker hops over the top rope and kicks ass 1.01megs
Flying clothesline on Austin 708k

Raw 10-7-01:
Taker runs in to give Booker the Last Ride 1.7megs
Replay 936k

Smackdown 10-4-01:
Taker runs in and makes the save 2.7megs

Raw 10-1-01:
Taker works on Test's shoulder 1.4megs
Taker walks the ropes on Test 678k
Taker gets the hot tag and cleans house 1.8megs
Taker holds on to Test and nails the Last Ride 1.2megs

Raw 8-27-01:
Taker's drop toe hold on Albert 676k
Taker's flying clothesline on Albert 489k
Taker's rope walk and arm wrench on Albert 1.1megs
Taker's beats on Albert and flattens X-Pac 887k
Taker's big boot on Albert 540k
Taker's chokeslam and pin on Albert 824k

Summerslam 8-19-01:
Taker humps the cage 251k
Taker pounds on DDP 941k
Taker slams and spears DDP into the cage 684k
Taker continually rams DDP into the cage 900k
Stereo situps 587k
DDP still getting pounded 973k
DDP gets chokeslammed off the top rope 977k
DDP's Last Ride 956k

Raw 8-13-01:
Taker beats on Palumbo 888k
Taker still beating on a bloody Palumbo 1.4megs
The Last Ride for Palumbo 1.1 megs

Raw 7-30-01:
Taker clotheslines Bubba 456k
Taker flying clotheslines Bubba in the corner 767k
Taker chokeslams Bubba off the top rope 700k

Raw 7-2-01:
Taker suplexes Albert 672k
Taker suplexes Albert 1meg
Flying clothesline on Albert 601k
Chokeslam on Albert 974k

Raw 5-21-01:
Taker warns Asstin not to mess with his family 2.9megs

Judgement Day 5-20-01:
Taker threatens Regal into making the match no holds barred 2.5megs
Taker attack Asstin 1.7megs
Taker dominates Asstin 2.3megs
Undertaker still dominating Austin 1.3megs
Undertaker does the armbar on the barricade 949k
Undertaker beating Asstin outside 1.7megs
Undertaker hits a flying clothesline 915k
Undertaker breaks the leg hold 1meg
Undertaker chokeslams Asstin through the announce table 983k
Undertaker flips off Asstin, and then (FINALLY) kicks out of the stunner 1.1megs
Undertaker chokeslams Asstin 679k
Undertaker beats Asstin relentlessly with a chair 1.3megs
Undertaker beats HHH relentlessly with a chair 1.3megs
Undertaker beats on Vince 1.1megs

5-10-01 Smackdown: Undertaker takes over Asstin's locker room:
Taker takes Asstin's locker room 2.9megs
Taker takes Asstin's beer 3megs
Taker spits on Debra 2.8 megs
Taker pours spit over Regal 2.6 megs
Taker gets fed up and goes after Asstin 2.1 megs
Taker calls out Asstin 2megs
Taker and his 2 soupbones waitin on Asstin 1.3megs
Taker beats on Asstin and chokeslams McMahon 1.4megs
Asstin runs from Taker 2.3megs
Taker chokeslams McMahon (replay) 893k

5-07-01 Raw: Taker interview
Part 1 1.4megs
Part 2 2.5megs


ASF Page 1
Back to Media