Undertaker Media - ASF Videos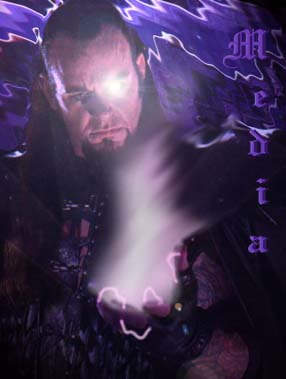 Items with a N are new and ones with a † have other formats. ALL of these are Crypt originals.

Media of the Phenom with "*"'s are ones I have made myself, please don't swipe them without permission or credit and in NO condition link directly to them. HOWEVER, the Crypt acknowledges that all TV media is property of the WWF, and is not out to infringe it, but provide an informative and educational resource on an audio/visual level.

ASF Notes:
-ASFs are a Windows Media Player Streaming format, but these can be saved by right-clicking the link and saving the target/link to disk.
-These can be streamed but are encoded at bitrates intended for local playback
-They require the Angel Potion decoder.


ASF Page 2
4-23-01 Raw:
Taker kicks Asstin and Hunter's collective ass 1.2megs
Taker beats on Austin 1.5megs
Taker chokeslams Hunter after knocking down E&C 1.3megs

4-16-01 Raw -†-:
Taker saves Lame backstage, again 976k
Taker gives Richards some advice 1 meg
The Fight Song 2.8megs


Taka goes for the Last Ride 926k (-†-)

4-9-01 Raw (Taker runs in and Taker vs Big Slow) -†-:
Taker saves Lame from Slow and Angle 1.5megs
Double chokeslam on the Big Slow 712k
Chokeslam Replay 840k
Taker backstage 938k
Taker starts out on the Big Slow 803k
Taker continues the assault 1.3megs
Taker Powerbombs Slow out of the corner 818k
Powerbomb replay 1.1megs


4-5-01 Smackdown (Taker/Lame vs RTC) -†-:
Note: There's no audio on any of these clips save the last one
Taker tags in and hits a flying clothesline 1 meg
Taker goes old school 1 meg
White socks gets his ass kicked by Taker 1.2megs
Double chokeslam to RTC 771k
Richards takes the Last Ride 961k
Taker and Lame take out Big Slob 1.5megs

WrestleMania X7 weekend -†-:
Taker at Ft. Hood 1 923k
Taker at Ft. Hood 2 1.2megs
Taker attacks HHH at Axxess 1.4megs
Taker warms up backstage 953k
Taker starts off attacking Triple H 1.2megs
Taker backdrops Triple H 552k
Taker slams HHH 1 meg
Taker flying clotheslines HHH 549k
Taker fights back off the mat 1.1 megs
Taker chokeslams HHH 772k
Taker beats on HHH on the soundstage 925k
Taker chokeslams HHH off the soundstage 1.2megs
Replay of the chokeslam 1 meg
Taker drops an elbow onto HHH off the soundstage 794k
Taker shoves away EMTs and continues to pummel HHH 996k
Taker hits the Tombstone 1.1megs
Taker hits the Last Ride out of the corner for the win 1 meg
Last Ride replay 1 meg
Taker mouths "This is my F'n yard" 431k
Highlights from the match at the end of the show 752k

Undertaker outsmarts Triple H, 3-19-01 Smackdown -†-:
Riding into the arena lot 623k
Taker shows Regal no respect 1.4 megs
Taker pounds Triple H 1.2 megs
Taker holds up Triple H and knocks down Big Slow 1.2 megs
Taker chokeslams Test 882k
Replay of Taker pounding Triple H 1.2 megs
Replay of Taker holding up Triple H 1.3 megs
Taker persuades Regal for a match vs Triple H at WM 1.5 megs

Undertaker confronts Triple H, 3-8-01 Smackdown -†-:
Part 1 1.3megs
Part 2 1.4megs
Part 3 1.8megs
Part 4 1.7megs
Part 5 1.2megs
Part 6 1.1megs
Part 7 1.3megs

Undertaker/Lame vs Islanders (Taker does all the work) -†-:
Taker DDT's Haku 536k
Taker chokeslams Haku 1meg
Taker chokeslams Haku replay 496k

Undertaker/Lame/D-von vs Christian/Islanders -†-:
Replay of Taker/Lame's run in on Raw 816k
Taker starts the match with Rikishi 1.6megs
Taker hits Rikishi with a flying clothesline 638k
Taker walks the ropes 1.5 megs
Taker chokeslams Christian 785k
Taker gives Christian the Last Ride 768k
Replay of the Last Ride 921k

Taker/Lame take out Islanders and Dudleys -†-:
Taker attacks Rikishi 1 meg
Taker attacks Haku 1 meg
Taker/Lame chokeslam the Dudleys 814k

No Way Out 2001- UT/Lame vs E&C vs Dudleys -†-:
Replay of Taker's domination the previous Monday 1meg
Taker/Lame slam E&C into the announce table repeatedly 942k
Taker/Lame powerslam E&C 935k
Taker hits a top turnbuckle clothesline 1meg
Taker/Lame chokeslam E&C 793k
Taker/Lame chokeslam the Dudleys 665k

Undertaker/Lame/Rock vs Edge/Christian/Angle -†-:
Taker and Lame going down the hall 897k
No one wants to face Taker 1.8megs
Taker dominates Angle 1.5megs
Taker grabs Edge and holds him up for a doublehand choke 962k
Taker ropewalks and slams down on Edge 914k
Taker chokeslams Christian 825k
Taker and Lame play pong with Edge 728k

Undertaker on Raw 02-12-01 -†-:
Taker and Lame flapjack Edge 1.3megs
Taker tags in and beats on Christian 1.2megs
Taker flying clotheslines Edge 913k
Taker chokeslams Christian 1.3megs
Taker melees outside the ring 1.4megs

Taker's 2nd XFL promo 1meg (-†-)

Undertaker on Superstars 02-05-01 -†-:
Bike Nite 01 545k
Bike Nite 02 1.8megs
Bike Nite 03 1.9megs

Undertaker in the Royal Rumble 2001 (1-21-01) -†-:
In the locker room 373k
Recapping the past few months 693k
Taker enters the rumble and kick ass 966k
Double chokeslam and elimination of Scotty 975k
Taker DDT's Rock 721k
Taker beats on Haku 721k
Taker dominates Rikishi 1.4m

Undertaker on Raw 1-22-01:
Taker runs in and kicks ass 705k
Kicking more ass 1.3m
Double chokeslam Rikishi 691k

Undertaker on 01-18-01 Smackdown:
Lilian interviews Taker 1meg
Undertaker tags in and kicks ass 2.7m
Flying clothesline on Rikishi 737k
Taker slams Angle 1meg
Chokeslams Rock 865k


ASF Page 2
Back to Media